How to persuade the Baby Shower haters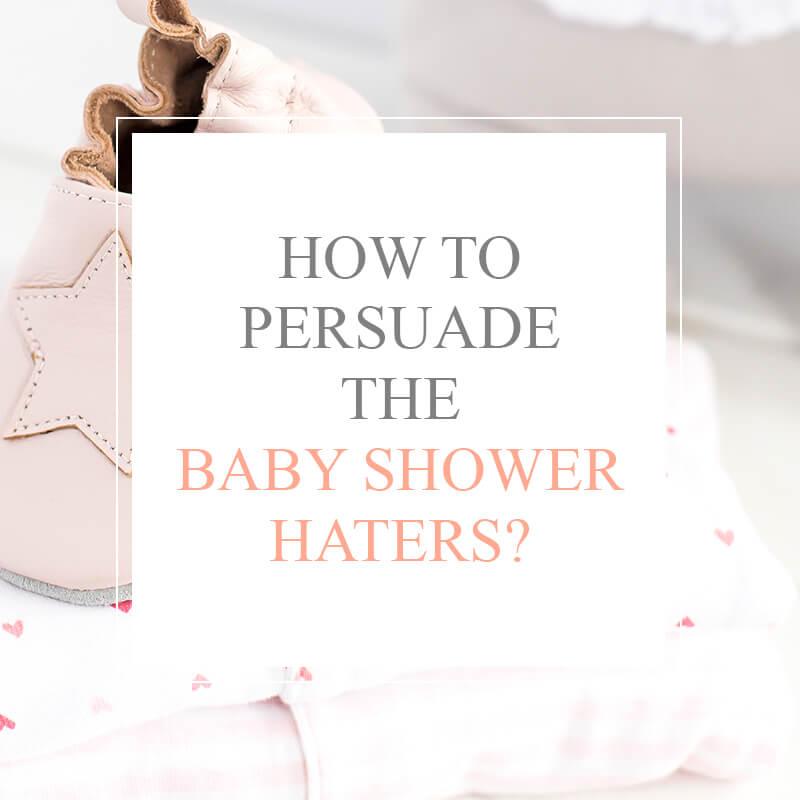 We all know that there is some controversy about baby showers. Not everybody likes them -- in fact, there are people that absolutely loath them! But sometimes a party isn't a party without that special person that just happens to hate baby showers. So this is how to persuade the baby shower haters to come to your party and actually enjoy themselves.
1. Don't throw your regular baby shower
Most of the time, the baby shower hostess is the one that's the most excited about her friend or family member expecting a baby. So she is determined to throw the very best baby shower EVER, including all of the regular baby shower ingredients like games, gift-openings, themes, baby-talk, etc. But this is usually causing the worst nightmares for baby shower haters.
So instead of having a traditional baby shower, make it into a glamorous nighttime cocktail party or a laid-back backyard barbecue party. And do not make it a women-only show, but instead invite partners and male friends as well.
Backyard baby shower setting by Camille Styles 
2. Clarify the details
Make sure you set a start time AND an end time for the baby shower. Most baby shower haters will want to know how much of their time they're going to "waste" on this "splendid party". If you set an end time, they will be more likely to come to your baby shower, especially if the party will only last for about 2-3 hours. 
And because of them being convinced that a baby shower is a total waste of their time, they will probably be a no-show in the weekends. Those days are precious for them. So to increase the chances of them attending your baby shower, plan it on a weekday. Preferably Friday night, so they can sleep in the next day.
3. Food for thought
Hungry people are normally not the most fun people to be around. If the baby shower is planned around a meal time, make sure you let your guests know if they can expect a full meal or if they will only get to eat some snacks. This way, they can plan to eat something in advance if needed.
Beautiful tropical food bar by Elemento Tres
4. Pricey gifts
Make sure you have a baby shower registry with gifts of various price points, so that the baby shower hater is not forced to buy you an expensive gift. Nothing's worse than having to go to a party you don't want to go to AND having to bring a present that's worth your monthly salary.
You can also let your guests bring a pack of diapers. They're not that expensive, they can be bought in any supermarket and you will need lots of them anyways. And if you make it into a diaper raffle, your guests can even go home with a prize. Win-win!
Floral baby shower diaper raffle sign by LittleSizzle
5. Why aren't YOU pregnant yet?
Most of the baby shower haters are people that are single or do not have any kids. At baby showers, it's logical to talk about babies and pregnancies. And most often, that leads to uncomfortable questions and a feeling of being left out for the baby shower haters.
So instead of celebrating the arrival of a baby, avoid the baby-talk by celebrating the life of the mommy-to-be in general. This way, you can all talk about whatever you want, instead of revisiting any horrific labor experiences.
6. No "ooh" and "ah"
Baby shower haters do not care about those cute baby gifts. So cut the gift-opening time short or let your guests bring their presents unpacked and present them on a table for everyone to see.
7. THE games
Okay, this is probably the very reason why a baby shower hater is a baby shower hater. The famous, or rather, notorious baby shower games. Let me be very clear: as soon as they realize that they have to taste and guess what melted chocolate bar is in that diaper, you'll have them running like you never knew they could. So please, do not force them into playing any baby shower games or you might not see them ever again.
But if you insist on playing baby shower games, the following games can be equally fun for baby shower lovers as well as for the haters:
Advice for the mom-to-be/new parents
Late night diapers
Who knows mommy best?
Guess who: mommy or daddy?
What's in your purse/phone?
Diaper raffle
Sweet pastel Who Knows Mommy Best game cards by LittleSizzle
8. Thank you goes a long way
You have to understand that, for a baby shower hater, showing up on a baby shower is a huge sacrifice. They have overcome their own arguments for desperately willing to say "no". And so, please take the time to thank them for coming to your baby shower and to thank them for any gift they brought. Because of you, they might even start to like baby showers!
What are your tips for persuading the baby shower haters?
---